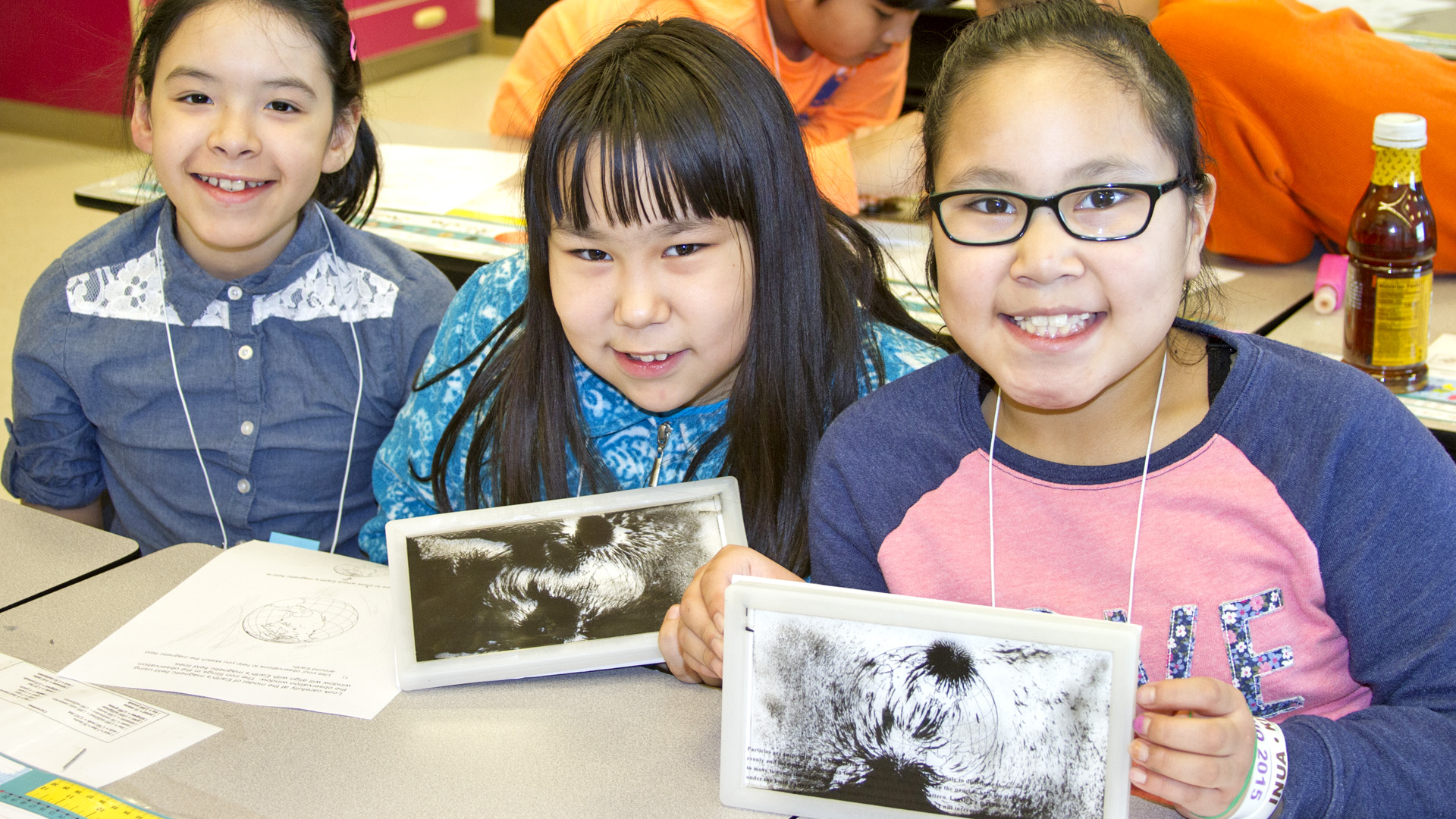 In an effort to minimize the risk of COVID-19 spread, all outreach with the portable planetarium has been cancelled. In addition, all indoor tours, both self-guided and guided, are suspended until further notice.
We do welcome visitors to explore our self-guided outdoor walking tour on the UAF campus. This tour provides information regarding numerous individual features located near the Geophysical Institute. See a rocket, satellite dishes, the Planet Walk and more! For the full tour: https://www.gi.alaska.edu/about/outdoor-walking-tour
Thank you for your understanding as we keep the safety of our staff and visitors as our highest priority and move forward to maintain a healthy community. 
Education and outreach are services the Geophysical Institute provides to deliver cutting-edge, current research to the public. Our programs are designed to make science accessible, inclusive, and engaging to science learners of all ages. Check out our outdoor, online and virtual programs and our K-12, Alaska-based curricula using the links below. 
Note: Please visit our site frequently. A new searchable tool for K-12 educational resources will be added in Spring 2022, and existing or former project websites will be retired. Contact us with questions by email.
Contact
604 Elvey Building 
Monday-Friday, 8 a.m. - 5 p.m.
mcvanlandeghem@alaska.edu
907-474-1910
https://outreach.gi.alaska.edu
Outdoor, online and virtual programs:
Science for Alaska: Free public talks and events

Alaska Science Educational YouTube Channel

Alaska Science Forum

Alaska Science Pod

Planet Walk

Space & Media Outreach

Walking Tour
K-12 Alaska-based curricula (current projects listed first):
Qanniksuk: It is Snowing! (a Cultural Connections project)

Alaska Science Curricular Initiative (previously Science Teacher Education Program)

Bright Girls: Budding Research Investigators in Geosciences, Habitat and Technology

Discovering Arctic Climate and Weather (formerly ACMP)

Kiuguyat: The Northern Lights (a Cultural Connections project)

Geophysical Institute Science Education Website
If you have students or a non-profit group that would like to learn more about the aurora, volcanoes, earthquakes, tsunamis, permafrost, unmanned aerial vehicles or remote sensing, please contact us.