The Seismology and Geodesy group pursues a wide range of disciplines with both global and local significance. We study earthquakes, tsunamis, earth structure, and active tectonics, as well as non-traditional sources of seismicity including nuclear explosions, glaciers, volcanoes, and landslides. We contribute to research topics with global relevance by leveraging the rich tectonics of Alaska, long records of instrumental recordings across the state, and the high-performance computing resources of the Geophysical Institute.
The Alaska Earthquake Center is embedded within the Seismology and Geodesy group and carries out Alaska's earthquake monitoring mission. This includes operating a 250 station seismic network, research on specific earthquake and tsunami hazards, and an extensive public engagement campaign to help improve Alaska's earthquake readiness. As a University Affiliated Research Center with the Department of Defense, the group pursues a wide range of R&D and operational missions to assess potential nuclear activities worldwide.
For information about being a student in our program, check out the prospective students webpage. For postdoctoral opportunities it is best to contact faculty of interest directly.
To learn more about what we do and why, check out the following video overview of our group:
Project Highlights
Rapid Ground Motion Characterization with GNSS
Global Navigation Satellite Systems (GNSS, including GPS) have long been used to precisely measure positions on the ground before and after large earthquakes. This information is used to determine where and how much the fault slipped. Instead of using positions to characterize earthquakes, we are assessing the potential of using ground velocities, which have the benefit of being available more quickly while being very precise (but lacking information on the absolute position). We aim to analyze all globally available GNSS data from recent large earthquakes and determine how much information about these events the technique will yield. We also analyze the full western (including Alaska) continuous high rate GNSS data during times of no earthquakes to investigate noise characteristics of the time series, and potentially detect earthquakes that are very far away. We hope the outcomes from this NASA-supported work will improve our ability to rapidly characterize large earthquakes and use this information in early warning applications.
Contact: Ronni Grapenthin
Arctic Observing Network
This large-scale initiative, supported by the National Science Foundation, is tracking Arctic change through a combination of geophysical and meteorological observations. The foundation for this project is a network of 45 long-term monitoring sites across northern and western Alaska adapted from the sunsetting Earthscope program. As the Arctic evolves in response to climate, the land and surrounding oceans are behaving differently. Changes in weather, wildlife, and vegetation are well recognized. These are accompanied by less-appreciated geophysical changes as well. Sea ice, micro-seismicity, and ambient noise all imprint the seismic record. Research opportunities with the seismic data are unusual since each of the sites is accompanied by a weather station, infrasound sensor, and soil temperature probes. We invite students and collaborators who are interested in highly interdisciplinary investigations of environmental change and its seismic record.
Contact: Michael West
Tsunami Hazard Assessment
The Alaska-Aleutian subduction zone has the greatest earthquake potential in the Pacific Ocean and produced several major tsunamis in the 20th century. For example, the historic 1946 and 1957 Aleutian, and 1964 Alaska tsunamis resulted in damage and loss of life not only in Alaska, but also in numerous locations around the Pacific Basin. To mitigate tsunami hazard along the Alaska coast and around the Aleutian islands, the Alaska Tsunami Inundation Mapping project aims to develop tsunami inundation maps, estimate tsunami currents, and assess time needed for people to reach safe ground.
Contact: Dmitry Nicolsky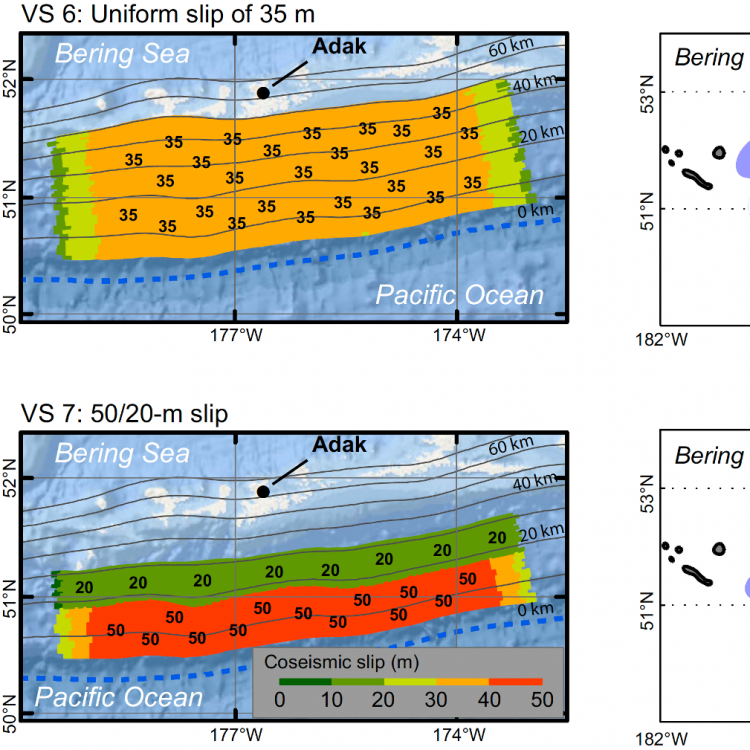 Seismology & Geodesy Group
Students, Staff and Affiliates
Ezgi Karasozen
Research Professional
Natalia Ruppert
Senior Seismologist
Ayumi Bakken
Seismic Data Analyst
Michael Christoffersen
Graduate Student Researcher
Gabrielle Davy
Graduate Student Researcher
Emily Graves
Graduate Student Researcher
Aakash Gupta
Graduate Student Researcher
Joanne Heslop
Field Engineer
Steve Holtkamp
Product Analyst
Sebin John
Graduate Student Researcher
Shah Khan
Research Technician
Kyungmin Kim
Graduate Student Researcher
Natalia Kozyreva
Seismic Data Technician
Alex Lăpădat
Graduate Student Researcher
Heather McFarlin
Data Specialist
Amanda McPherson
Graduate Student Researcher
Nate Murphy
Research Professional
Sarah Noel
Graduate Student Researcher
Carolyn Parcheta
Research Professional
Michael Place
Research Professional
Wisnu Priyanto
Graduate Student Researcher
Claire Puleio
Graduate Student Researcher
Bella Seppi
Graduate Student Researcher
Nealey Sims
Graduate Student Researcher
Scott Stihler
Research Technician
Elena Suleimani
Tsunami Modeler