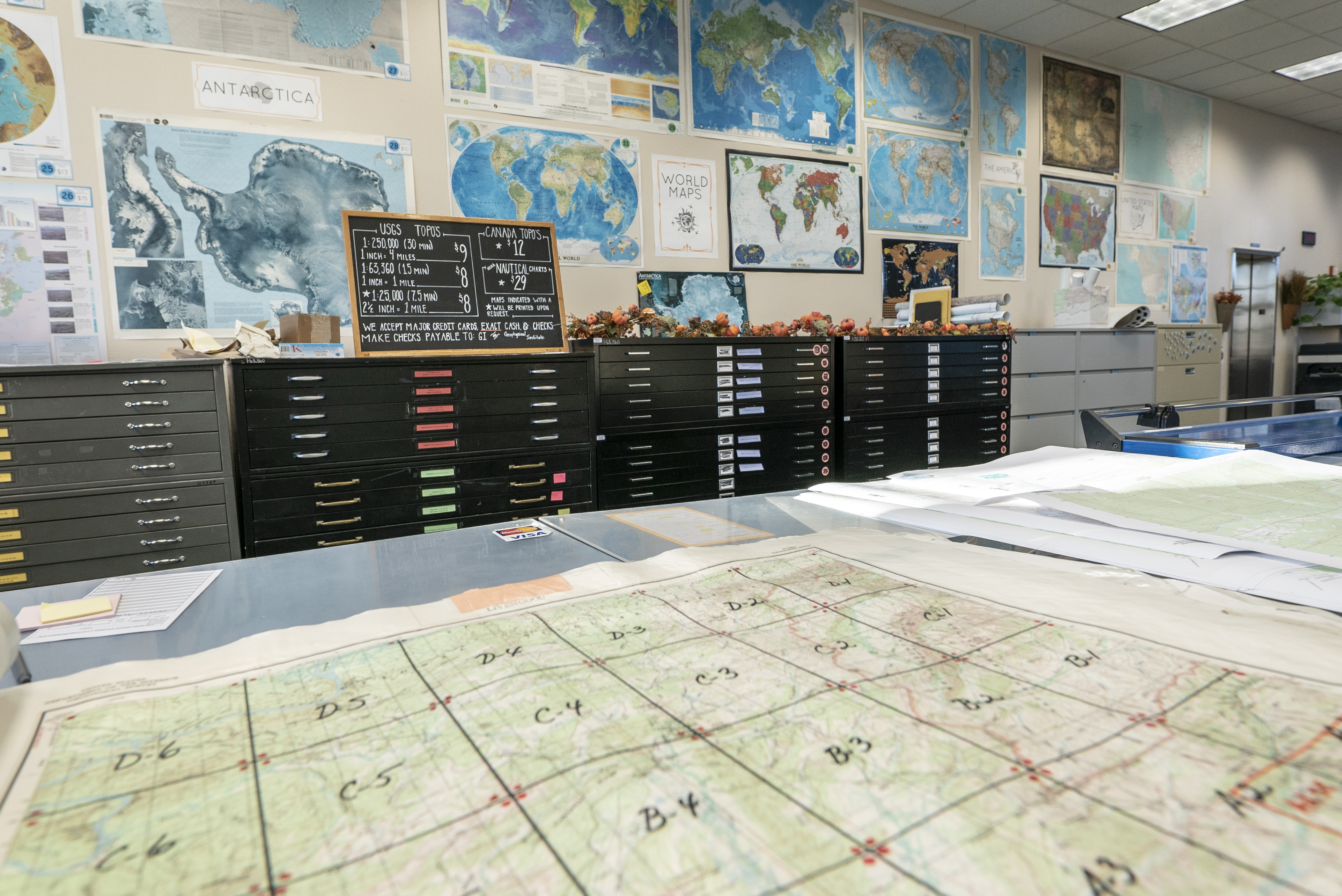 The Map Office is the only full-service map store in Alaska with more than 150,000 maps in stock and available by print-on-demand for hikers, hunters, guides, tourists, boaters, industry and military applications, and more. Topographic, geologic, circumpolar, trail and road maps are available for the continental United States, Canada and Alaska, as well as nautical charts.
Maps are available for purchase in-person or over the phone.  
Contact
  204 Akasofu Building 
  Monday-Friday, 9 a.m. - 5 p.m.
 907-474-6960
 907-474-5369
  uaf-maps@alaska.edu
Parks, Trails, and Wilderness Maps

National Geographic Trails Illustrated Maps are designed to take you into the wilderness and back! The maps include valuable wilderness tips and "Leave No Trace" guidelines, along with updated trails, trailheads, points-of-interest, campgrounds and much more.

Come explore the following destinations with us!

Chilkoot Trail
Gates of the Arctic
Glacier Bay
Kachemak Bay
Katmai
Kenai National Wildlife Refuge
Kenai Fjords
Lake Clark
Prince William Sound East
Prince William Sound West
Wrangell-St. Elias

 

Fairbanks Area Maps

Planning a trip to Fairbanks, Alaska?  Let us help!

We offer road maps, wildlife viewing guides, USGS topographic maps and more.

 

Alaska Road Maps

Let us help you navigate the Alaska road system.

 We offer the following maps:

Rand McNally Alaska Roads
Rand McNally 'Easy to Fold' state of Alaska
Parks Highway
Dalton Highway
Sport Fishing Alaska
Kenai River Area
Anchorage and Vicinity

 

Canada Maps

Going through Canada, eh?  

Stop by and explore maps of Yukon Territory, British Columbia Road and Parks Guide, and South Klondike Highway maps.

 

Topographic, Geologic, and Circumpolar Maps and Charts

We carry an extensive inventory of the following maps:

USGS topographic maps of Alaska
USGS geologic maps of Alaska
Canada topographic maps
Circumpolar maps
Nautical charts of Alaska

Ordering via phone? Use the USGS online viewer to select your maps: https://ngmdb.usgs.gov/topoview/viewer/

 

Map Tools

Taking your map into the field? We stock a variety of tools to help you get the most out of your USGS topographic maps:

Coordinate grid reader and protractor
UTM tool and booklet
Mini corner
Map ruler
Map seal for permanent waterproofing of any map

 

Archive Photography

The Map Office maintains an archive of historical aerial photography of Alaska. Please contact us for more information on these products.

---

---

Glacier Photography of North America 
The USGS Ice and Climate Project

---

The Austin Post Collection

 

 

---

Alaska North Slope Photography - Naval Arctic Research Lab Photos (NARL)

Orders and Payment

We currently only offer phone orders and in-store purchasing. Visitors will find metered parking spots in front of the Akasofu building.

204 Akasofu Building
2158 Koyukuk Drive
Fairbanks, AK 99775

Monday-Friday, 9 a.m. - 5 p.m.

 907-474-6960
 907-474-5369
 uaf-maps@alaska.edu

See Map Office location in Google Maps.