The Geophysical Institute (GI) asserts that a diverse community brings about richer science, stronger cross-cultural connections, and more immediate societal benefits — but more fundamentally, building an inclusive community is the right thing to do. We realize that this effort requires a commitment to the principles of equity, inclusion, anti-racism and accountability to all of these. Please read below about GI and UAF efforts in these areas and see resources to learn more.
GI Diversity, Equity and Inclusion Committee
The GI Diversity, Equity and Inclusion (DEI) Committee is a collection of GI graduate students, staff and faculty who are working to create a more diverse, equitable and inclusive GI community. The committee's goal is to help guide and inform the GI on inclusivity actions and measures.
The attached statement introduces the original committee members and ideas:
PDF: Introduction to the GI DEI Committee
Contact the committee at uaf-gi-dei@alaska.edu for more information.

GI Inclusivity Resources

GI and UAF Geoscience Initiatives
Please find links to DEI initiatives and resources within the GI, the UAF geoscience department and University of Alaska at large below:

Resources at UAF
There are a number of UAF-wide organizations and resources related to DEI. Click the drop-downs below to learn more.

Recruitment – Inclusivity Resources

Reporting
The Department of Equity and Compliance (formerly the Title IX Office) leads UAF's efforts to create a more diverse, equitable, accessible, and inclusive community.
File a report with the Department of Equity and Compliance here.
Resources

Frequently Asked Questions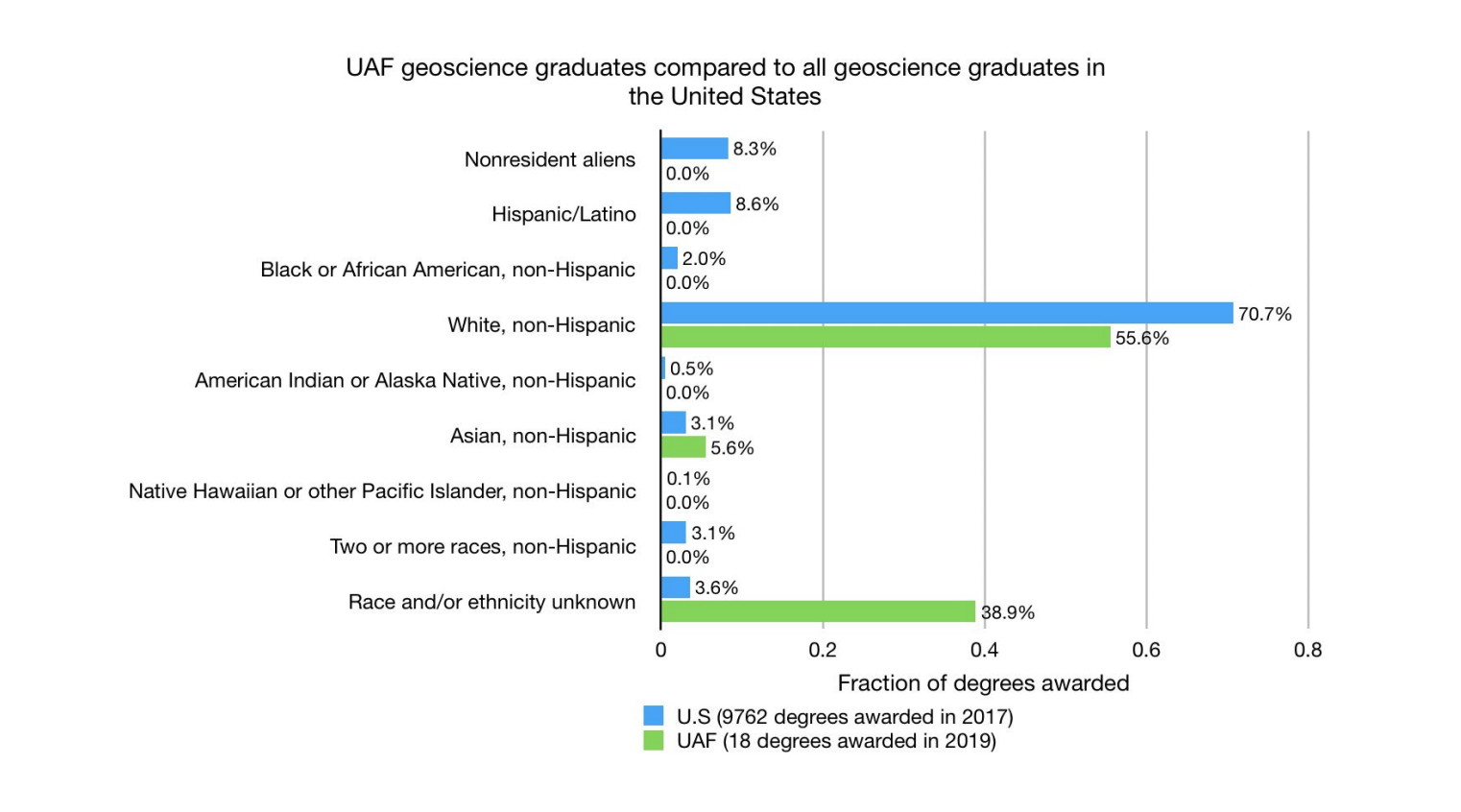 Comment Box
The GI DEI committee would love to hear your questions, suggestions or other feedback. Use this form to submit your thoughts anonymously, or include your email if you would like a response. You may also email the committee directly at uaf-gi-dei@alaska.edu.
Please note: The GI DEI committee will read form responses and must report all relevant details of sexual misconduct to the Title IX coordinator or other school designee within 24 hours of becoming aware. See more options to report discrimination, sexual or gender-based misconduct, crimes, and other complaints here.