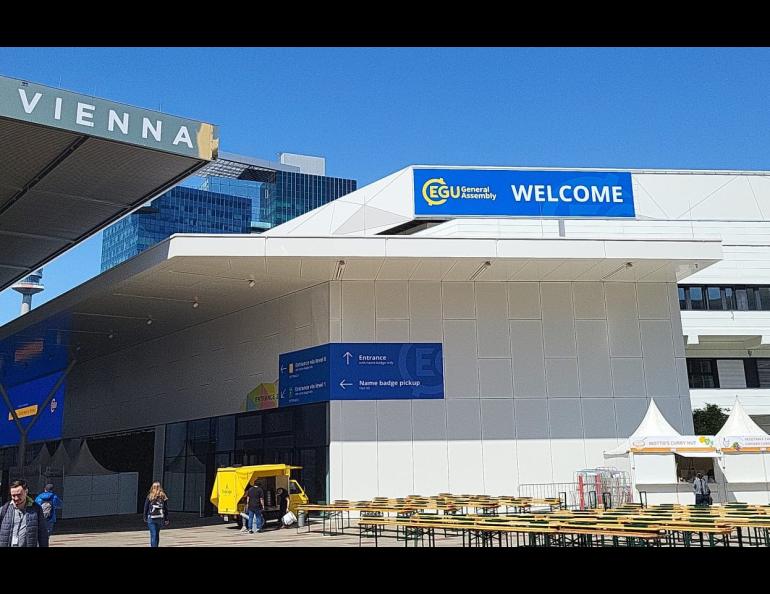 Geophysical Institute research on display at European science meeting
Research by several University of Alaska Fairbanks Geophysical Institute scientists is being presented this week at the annual meeting of the European Geosciences Union in Vienna, Austria.
Work authored or co-authored by Geophysical Institute researchers is on display in poster sessions, orally and in hybrid remote/in-person sessions. Research reported on includes such topics as Fairbanks' winter air quality, the Pacific Ocean oscillation, Earth's magnetosphere, the origin of Earth's magnetic field and volcano behavior.
The annual meeting began Sunday and ends Friday. It is the European counterpart to the American Geophysical Union meeting, which occurs each December. The weeklong European meeting attracts about 15,000 people, on par with the U.S. conference.
Xi Lu, a fourth-year Ph.D. physics student and Geophysical Institute research assistant, is participating remotely in her first EGU meeting. The convenor of an EGU session who Lu met at last year's AGU meeting in Chicago invited her to participate in this year's EGU.
"Since I only attended conferences in the U.S., I'm looking forward to communicating with people in Europe," Lu said. "What's their most interesting research, and what do they think about my work?"
Lu will be discussing her research into how hot flow anomalies form and how they affect Earth's bow shock and magnetosheath.
In Vienna, Geophysical Institute space physicist Dogacan Ozturk is presenting a poster displaying new findings about how Earth's magnetic field lines map to locations in the planet's Northern and Southern hemispheres. Scientists take measurements from both hemispheres to understand what Earth's protective magnetosphere looks like.
"We work on the assumption that magnetic field lines more or less map to similar regions in the Northern and Southern hemispheres, like West Greenland in the north and Antarctica in the south, for example," she said.
"But our research shows that magnetic field lines perturbed by solar wind may have points in entirely different regions on the Earth," she said. "These results would change how we study interhemispheric asymmetries with numerical models."
Ozturk, who is attending in person,will also make an oral presentation about a method to understand the characteristics of different auroral forms observed in all-sky imagers. That research includes work by the Geophysical Institute's Don Hampton and Matthew Blandin and former Geophysical Institute researcher Hyunju Connor.
Fairbanks' wintertime air quality is the subject of several presentations that stem from the early 2022 Alaskan Layered Pollution and Chemical Analysis project, or ALPACA. The project aims to improve understanding of how pollution behaves in cold and dark conditions and how the layered atmosphere affects pollution events.
As part of that project nearly 50 scientists from the U.S. and Europe came to Fairbanks for a seven-week study of the chemical interactions that lead to the community's poor wintertime air quality.
Geophysical Institute researchers William Simpson, Meeta Cesler-Maloney and Jingqiu Mao joined in the work being presented at EGU by colleagues from other institutions that participated in ALPACA.
Geophysical Institute associate research professor Gunther Kletetschka, attending in person, will be presenting a new hypothesis about how Earth's magnetic field operates.
"My work is a non-conventional look at the origin of the geomagnetic/planetary field that has not been yet considered," he said.
Kletetschka also has research included in a poster being presented by a Charles University colleague. Kletetschka has an affiliation with the university, which is in the Czech Republic. The research is a paleomagnetic study on Holocene sediments from a lake in the Tatra Mountains on the Poland-Slovakia border.
Kletetschka is returning to the EGU meeting for the first time in at least 10 years.
"I'm looking forward to new experiences from listening to people from other countries who normally do not attend the American Geophysical Union annual meeting in the U.S.," he said. "I am looking for diversity."
EGU offers poster and oral presentations and a format it refers to as PICO,  an acronym for "presenting interactive content."
PICO is a hybrid presentation in which several presenters are gathered and each is given two minutes to present their research. They are also assigned a display screen on which their work is presented. After the two-minute introductions, onsite and remote audience members can browse the online screens to look for presentations of interest and to engage with the authors.
---
CONTACTS:
• Rod Boyce, University of Alaska Fairbanks Geophysical Institute, 907-474-7185, rcboyce@alaska.edu