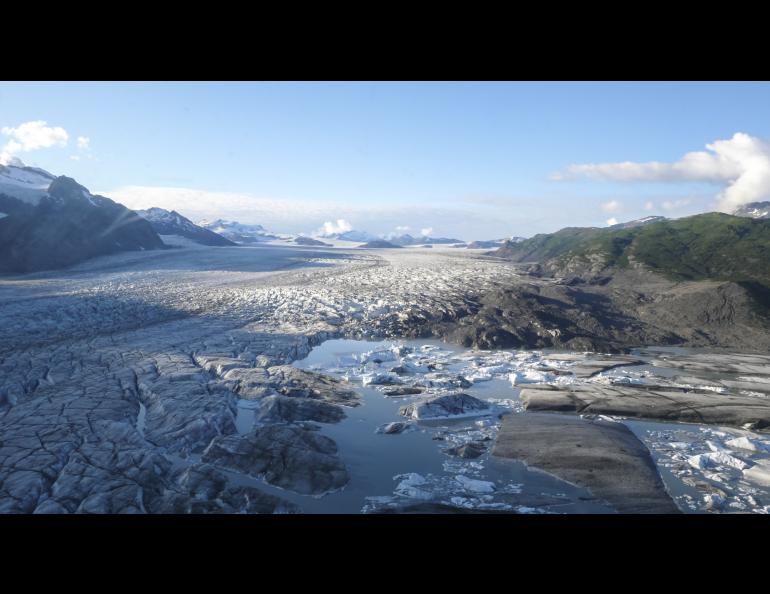 Geophysical Institute researchers involved in international sea level study
Three researchers at the University of Alaska Fairbanks Geophysical Institute are among the participants in an international paper that states that the increase in sea level rise due to melting glaciers and ice sheets could be cut in half this century by limiting global warming to 2.7 degrees Fahrenheit (1.5 degrees Celsius) as called for in the Paris Agreement on climate change.
The paper, titled "Projected land ice contributions to 21st century sea level rise," was published today, May 5, 2021, in the British scientific journal Nature. The study will help inform the Intergovernmental Panel on Climate Change's Sixth Assessment report, which will be published later this year.
The research was led by climate scientist Tamsin L. Edwards of Kings College in London with contributions from 83 co-authors, including Geophysical Institute glaciology professor Regine Hock, who is also affiliated with the University of Oslo in Norway; Geophysical Institute research associate professor Andy Aschwanden; and former Geophysical Institute postdoctoral fellow David Rounce, who provided information for the study while at UAF but who now works at Carnegie Mellon University in Pittsburgh, Pennsylvania.
It marks the first time that researchers have collaborated on such a global scale, running hundreds of simulations and using the same methodology in analyzing the results.
Hock co-led the study's glacier modeling effort, one of two focal points of the research. A second effort looked at how mass loss from the ice sheets, such as those in Greenland and Antarctica, will affect sea level rise.
Hock said of the research that "the picture is pretty clear."
"The glaciers will decline all over the world and lose very substantial mass," she said from her home in Norway. "But because they are so sensitive to temperature, if you have less of an increase, that makes a big, big difference."
The warming is largely driven by the buildup of carbon-based gases in the atmosphere associated with the consumption of fossil fuels.
"Even if we do stop emissions today completely, ice will continue to melt and sea level will rise because it has a memory — it's now reacting to emissions and temperature increase from decades ago," she said.
"That's the main message: that human action matters. If we limit the increase in temperature, we keep more ice on the land, and that's putting less into the ocean and having less sea level rise."
Alaska is a "pretty big player" in global glacier mass loss, Hock said.
"About 20 or 25% of all the glacier mass loss by the end of the century will come from Alaska," she said.
The research is the work of scientists from 62 institutes in 15 countries. Participating scientists are from Australia, Austria, Belgium, Canada, Finland, France, Germany, Japan, the Netherlands, New Zealand, Norway, Switzerland, Tasmania and the United States.
Among the findings: 
• Limiting the global warming increase to 2.7 degrees Fahrenheit would decrease the median sea level rise due to the current projected meltwater volume to 5.1 inches from 9.8 inches (13 centimeters from 25 centimeters) by the year 2100 when compared to the warming projections based on current emission-limiting pledges by nations.
• Glaciers would account for half of the reduction.
• A 2.7 degree Fahrenheit reduction showed no clear effect, however, on Antarctica "due to competing processes of increasing ice loss and snowfall accumulation in a warming climate," the study states. It adds that uncertainty remains in considering Antarctica's contribution to sea level rise and that more study is needed.
Aschwanden, who worked on the ice sheet modeling side of the study, said more work needs to be done.
"There is a good chance that these numbers may still be on the low side and that we may still be underestimating the real sea level rise," he said.
"This is the first effort of its kind to try to bring all of these different research groups — and the glaciers and the ice sheets —  together," he said. "This is a great step into the right direction, but we're not there yet."
---
CONTACTS:
Rod Boyce, University of Alaska Fairbanks Geophysical Institute, 907-474-7185, rcboyce@alaska.edu
Regine Hock, University of Alaska Fairbanks Geophysical Institute, rehock@alaska.edu
Andy Aschwanden, University of Alaska Fairbanks Geophysical Institute, 907-474-7199, aaschwanden@alaska.edu