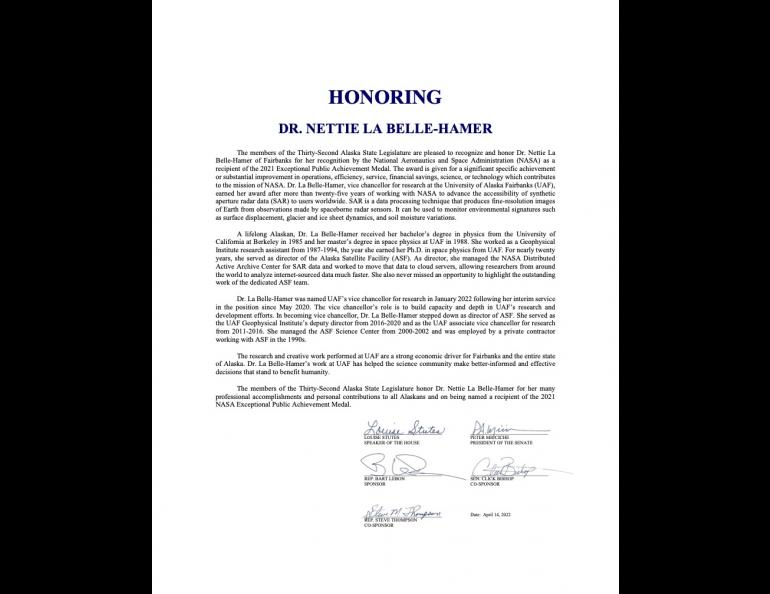 Legislature honors Nettie La Belle-Hamer
The Alaska Legislature has honored UAF Vice Chancellor for Research Nettie La Belle-Hamer for being recognized by NASA for her contributions to the field of synthetic aperture radar.
NASA earlier this year named La Belle-Hamer a recipient of its 2021 Exceptional Public Achievement Medal for her quarter-century of working with NASA to advance SAR accessibility worldwide. 
La Belle-Hamer received the citation in a presentation at Tuesday's meeting of the Greater Fairbanks Chamber of Commerce.
"I feel incredibly grateful for the opportunities that I've been afforded and to my parents for accidentally moving to Alaska and allowing me to grow up here," La Belle-Hamer said in accepting the citation from Rep. Bart LeBon.
"And then University of Alaska Fairbanks afforded me the opportunity to get a master's and Ph.D. in space physics in the world-renowned Geophysical Institute, which afforded me the joy of being part of the Alaska Satellite Facility," she said.
LeBon and his staff crafted the citation, which was co-sponsored by Sen. Click Bishop and Rep. Steve Thompson.
"Being vice chancellor for research is such an important task not for just the Interior but for all of the state and the University of Alaska," LeBon said in presenting the citation. "I'm so proud that I was able to put together this citation honoring you."
"This is so appropriate that we're honoring her and the research arm at the University of Alaska," he said to the crowd.
The citation notes that the role of vice chancellor for research is "to build capacity and depth in UAF's research and development efforts."
"The research and creative work performed at UAF are a strong economic driver for Fairbanks and the entire state of Alaska," the citation reads. "Dr. La Belle-Hamer's work at UAF has helped the science community make better-informed and effective decisions that stand to benefit humanity."
La Belle-Hamer served as Alaska Satellite Facility director from 2002 until earlier this year when she was named vice chancellor for research. She had been interim vice chancellor since May 2020.
At ASF prior to becoming director, La Belle-Hamer led the ASF Science Center, which worked on development of the Earth Observing System Data and Information System. As ASF director, she focused on managing the NASA Distributed Active Archive Center for SAR data supporting polar environmental processes.
The NASA Exceptional Public Achievement Medal is given to a non-government person "for sustained performance that embodies multiple contributions on NASA projects, programs, or initiatives."