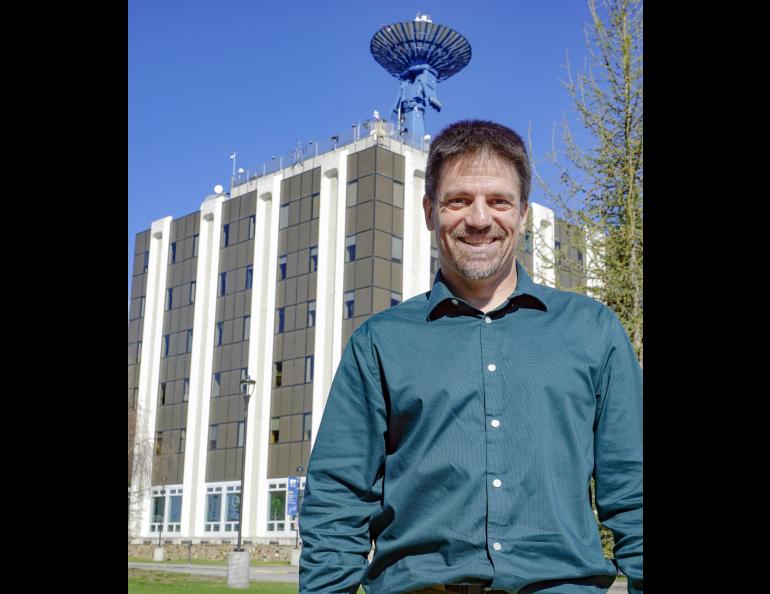 Alaska Satellite Facility's Albright focuses on lifelong learning
Wade Albright said his job was like "drinking water out of a fire hose" at one point.
He was working as a technician at the Alaska Satellite Facility, part of the University of Alaska Fairbanks' Geophysical Institute, and was challenged every day. He had been at ASF for several years, but the learning curve is steep at an organization that processes complex scientific data.
Almost two decades later, this March, he was named deputy director. Now he helps lead one of UAF's largest units, which produces satellite data for national and international clients to study complex topics such as climate change.
"Especially being here in Fairbanks, Alaska, we see the changes that are happening with climate change every day. We know climate change is real," he said. "So, helping to see the first imagery as it comes across, helping validate those results and helping us realize how the planet is changing, that's satisfying."
It's that kind of work that drew him to ASF: the big antennas, working directly with NASA and the technology. For Albright, the science is interesting but even more so are the people behind it.
"I enjoy my job," he said. "But what I enjoy most is the people I work with and helping them do their job."
It took him years to figure out his passion for leadership.
In college, Albright changed his major six times and eventually graduated from UAF with a bachelor's degree in geography. He excelled with high grades, but wasn't sure how he wanted to dedicate his career.
On the recommendation of a friend, he took a job in ASF as an operator, an entry-level position staffing ground stations and processing satellite imagery. Within two years he was promoted to lead operator and, over the years, has led most of the groups in the organization.
As deputy director, he sees himself as a facilitator.
"One of management's primary tasks is giving the technical staff the tools they need to do their job," he said. "Our job as management is to provide strategic direction, give them the tools, then get out of the way and trust them to do their job."
Even though he later earned an MBA, Albright does not have a formal science degree. He believes a strong work ethic and the ability to learn are the most important professional qualities.
"What you need to have is the ability to learn, a method and a structure to learning," he said. "Find out the ways that you learn best, and apply those to everything you do. It's really important that we continue to learn as we grow older. When you stop learning, you stop being useful."
Now the fire hose is more like a garden hose, but Albright faces challenges every single day and keeps an open mind.
"I've been here 23 years, and there's still a lot for me to learn," he said. "It's a very challenging field. It's very deep. It's very complex, and there's so many different things you can do with it."
---