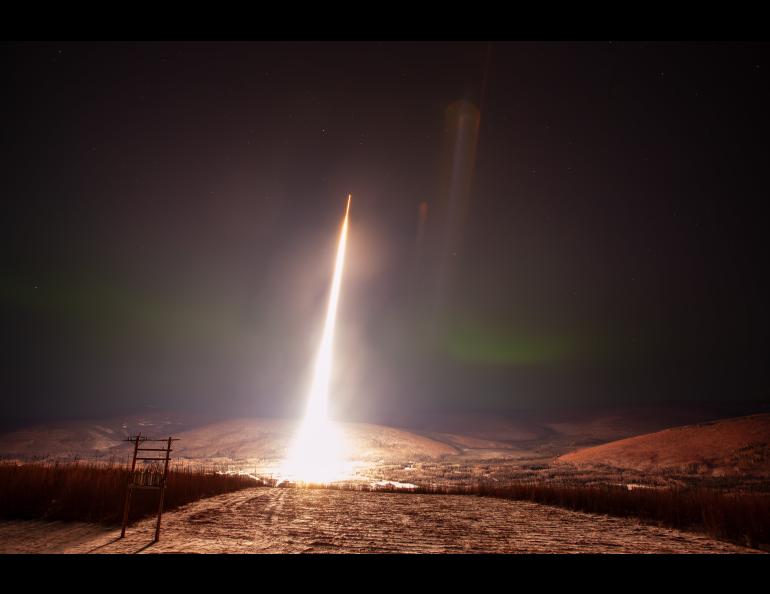 First NASA rocket of season flies high out of Poker Flat Research Range
A two-stage NASA sounding rocket flew skyward shortly after midnight Wednesday carrying science instruments to gather data about the solar wind's behavior.
The experiment, named Dissipation, is aimed at learning how charged solar wind particles dissipate their energy in the high-latitude ionosphere-thermosphere. That region is about 62 to 186 miles above the surface and at latitudes above 65 degrees.
Mehdi Benna, an aeronomist and planetary scientist at the University of Maryland, Baltimore County and NASA's Goddard Space Flight Center, is the experiment's principal investigator.
"It was an exciting but nerve-racking experience," Benna said. "The countdown had to be precisely timed to target the peak of the auroral activities, which lasted less than 30 minutes from its growth to recovery phase."
"The last four minutes of the countdown felt like hours as we waited for the last items on the launch checklist to be completed before the rocket could lift off," he said.
Understanding the energy dissipation mechanism will help explain processes that create high-latitude wind in Earth's upper atmosphere near the edge of space. That wind has a significant role in space weather because it influences the regulation and redistribution of mass, momentum and energy in the ionosphere-thermosphere around the planet.
Improved space weather forecasting has become increasingly important to operators of satellites, communication and navigation systems, and power grids, all of which can be damaged or disrupted by space weather.
Benna said the early look at the-real time telemetry indicated that all onboard science instruments functioned as intended and collected a large amount of data from the auroral substorm. 
The sub-payload carrying the Modular Spectrometer for Atmosphere and Ionosphere Characterization, or MoSAIC, instrument parachuted down range as planned and a transmitter beacon has reported its position. It will soon be recovered.
"Now the real work of conducting the science for which the mission was designed can start," Benna said. "We will spend the next few months processing and merging the data from all the Dissipation mission instruments before disseminating them to the larger science community." 
"The data collected will probably keep all of us busy for the next couple of years analyzing this specific auroral event through analytical and numerical modeling," he said.
A second rocket for a different experiment is at Poker Flat awaiting favorable weather and science conditions for launch.
Geoff Reeves, chief scientist for intelligence and space research at Los Alamos National Laboratory, is heading the Beam-Plasma Interactions Experiment that could, in the future, lead to a way to clean up near-Earth space after a nuclear detonation at the edge of the planet's atmosphere. The cleanup would make space safer for satellites.
A four-stage sounding rocket will launch northward, reaching an altitude of 280 miles and landing about 60 miles north of Alaska's Arctic Ocean coast.
The University of Alaska Fairbanks Geophysical Institute owns Poker Flat, located at Mile 30 Steese Highway, and operates it under a contract with NASA's Wallops Flight Facility, which is part of the Goddard Space Flight Center.
---
CONTACTS:
• For the Dissipation experiment, Sarah Frazier, Goddard Space Flight Center, 202-853-7191, sarah.frazier@nasa.gov
• For the Beam-PIE experiment, Brian Keenan, Los Alamos National Laboratory, 505-412-8561, keenan@lanl.gov
• For Poker Flat, director Kathe Rich, 907-455-2103, ksrich@alaska.edu.
• Rod Boyce, University of Alaska Fairbanks Geophysical Institute, 907-474-7185, rcboyce@alaska.edu