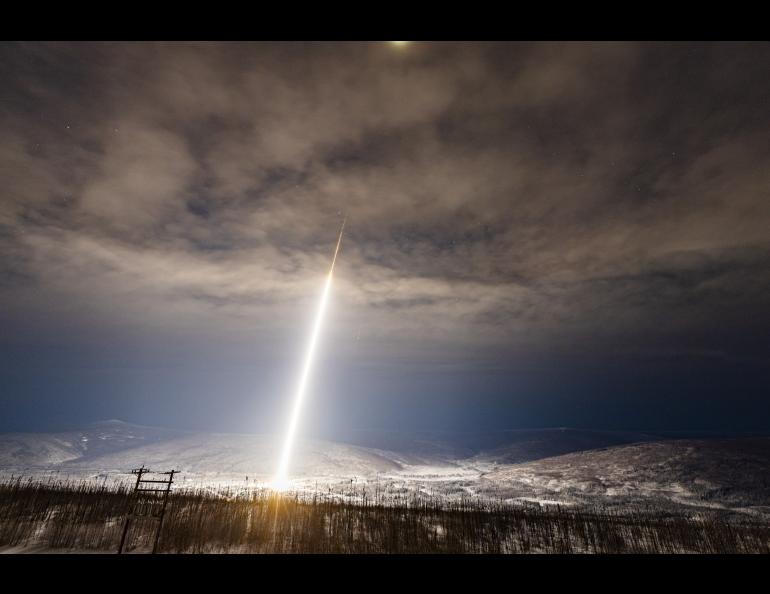 NASA sounding rocket launches from Poker Flat
A NASA sounding rocket launched from Poker Flat Research Range north of Fairbanks at 4:40 a.m. on Jan. 27, 2020. The rocket arced to a high point 160 miles over northern Alaska, carrying an instrument used to measure the concentration of nitric oxide in the upper atmosphere.
Scott Bailey of Virginia Tech University, one of the scientists responsible for the launch, said he got the science results he was looking for and the launch went off as he had hoped. The launch occurred on the second morning of a scheduled window.
The NASA launch — the 343rd sounding rocket to launch from Poker Flat since the late 1960s — is the only one scheduled for winter 2020 at the Chatanika facility. Poker Flat Research Range is part of the University of Alaska Fairbanks Geophysical Institute.
Dog musher Chris Garber-Slaght, who lives on a ridge above the Goldstream Creek valley, saw the launch on the 30-below-zero Fahrenheit morning.
"The whole northern horizon lit up, silhouetting Haystack (Mountain, near Chatanika) and causing this fellow some slack-jawed wonder," he said by email. "As the dogs whined for their food, still in my hands, I remembered where I was, fed the dogs, collected the bowls again, and only then did the sound reach me, rumbling low across the landscape."
The rocket motors propelled a 1,159-pound payload that included an instrument that locked on a distant star to determine what light the gases in our atmosphere were filtering out. The results will tell scientists about the abundance of nitric oxide, which sometimes penetrates lower levels of Earth's atmosphere, destroying ozone molecules.
Technicians from Poker Flat will soon recover the Black Brant rocket's two booster sections, each of which fell away onto frozen northern Alaska after burning its fuel. They will also find and retrieve the rocket payload.
---