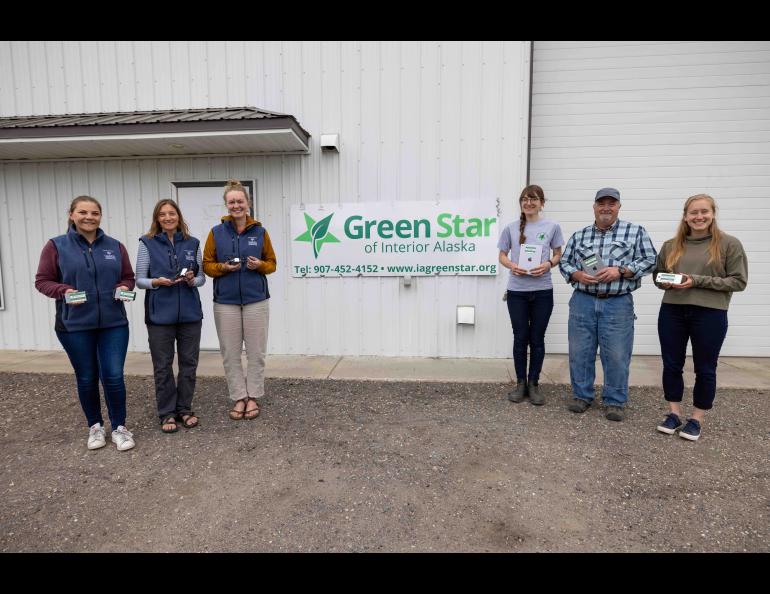 UAF, Green Star join to boost school drone program
Three small Alaska schools will receive refurbished smart devices for use in a new drones program under a partnership between the University of Alaska Fairbanks Geophysical Institute and Green Star of Interior Alaska.
Schools in Nulato, Nenana and Valdez will receive the electronics through the Drone Research and Opportunities for Native Elementary Students program, or DRONES, a project of the Geophysical Institute Education Outreach Office and funded by the National Science Foundation.
The devices will be used to control small quad-copter drones, which are also being provided to the three schools through the NSF-funded program.
"The overarching goal of the drone project is to increase Alaska Native students' enthusiasm, engagement and success in STEM, which is science, technology, engineering and mathematics," said Geophysical Institute education and outreach coordinator Marine Vanlandeghem Gillespie.
"Green Star's core values of environmental stewardship, education and innovation align with our Education Outreach department's values," she said.
Through Green Star, teachers at the three schools will each receive a variety of refurbished phones and tablets to test which ones will work best for use by students in controlling the drones.
"These different devices will be used by our pilot test teachers so that they can tell us if it is easier to work with one of the devices compared to the other, which one is more manipulable for the children or if the children have a preference in terms of size in relation to their hand," Vanlandeghem Gillespie said.
Green Star of Interior Alaska eagerly embraced partnering with the Geophysical Institute. Green Star is a Fairbanks-based nonprofit whose mission is to encourage and enable the community to reduce waste and support recycling. 
"We are warmed to see that our donation of electronic devices that had been discarded as waste will get to see a new life while contributing to empowering educational endeavors in Interior Alaska villages," said Cherissa Dukelow,  programs and outreach manager for Green Star of Interior Alaska. "Some of these are communities that we already serve as the Interior hub for electronics recycling through our partnership with Backhaul Alaska.
"This circular use of materials in conjunction with investing in community education aligns with our organization's vision," she said.
Green Star also processes electronic waste for the Fairbanks North Star Borough Central Recycling Center.
---
CONTACTS:
• Marine Vanlandeghem Gillespie, UAF Geophysical Institute, 907-474-1910, mcvanlandeghem@alaska.edu
• Cherissa Dukelow, Green Star of Interior Alaska, 907-452-4152
• Rod Boyce, UAF Geophysical Institute, 907-474-7185, rcboyce@alaska.edu