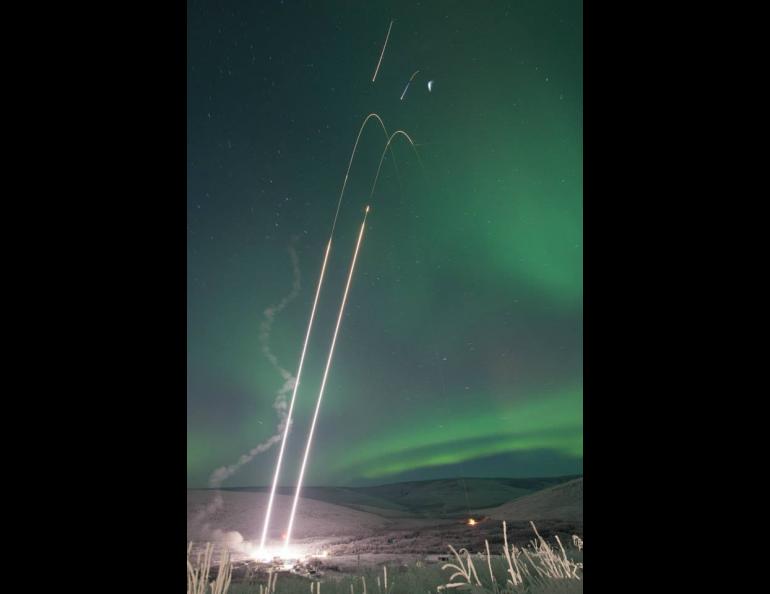 Space Week features rocket launch window and NASA experts
An unofficial Space Week, filled with space science events, rocket launch preparations and presentations by NASA guests, will blast off in Fairbanks and North Pole on Saturday, Jan. 25.
The 2020 rocket launch window at the University of Alaska Fairbanks Geophysical Institute's Poker Flat Research Range opens Jan. 26, between 4:04 and 5:04 a.m. Alaska Standard Time. The launch window runs through Feb. 8 and opens three to four minutes earlier each day.
The mission, called PolarNOx, aims to better understand the abundance of nitric oxide in the polar atmosphere.
The aurora routinely creates nitric oxide (or NO), a colorless gas which, under the right conditions, can destroy ozone. Changes in ozone can lead to changes in the stratosphere and may even affect conditions near Earth's surface. Sunlight destroys nitric oxide. So, during the months of polar night, large concentrations can build up.
"The purpose of our rocket is to measure the abundance, and especially the altitude of peak abundance, for the nitric oxide. We don't know the altitude at which the nitric oxide settles," said researcher Scott Bailey. Bailey, from Virginia Tech in Blacksburg, Va., and Bill McClintock, from the University of Colorado, Boulder, are co-principal investigators for the project.
The mission plans to launch one NASA Black Brant IX sounding rocket to reach an altitude of 161 miles, pointing at the star Gamma Pegasi. Starlight will be observed with high spectral resolution ultraviolet equipment which can detect nitric oxide concentrations.
There are a number of ways to stay up-to-date with the launch. It will be livestreamed on Poker Flat's YouTube channel, where viewers can see launchpads and listen to audio of range communications each night. Live commentary begins approximately one hour before the targeted launch window.
Information is available on Poker Flat's Facebook page, and updates are also available via text by sending "PFRRLAUNCHES" to 33222. Standard messaging rates apply.
Details about the launch will also be available at the Community Space Science Day event from 1:30–4:30 p.m. Saturday, Jan. 25, at the North Pole Branch Library. The event will include astronomy presentations in a portable planetarium, hands-on activities led by UA Museum of the North and Geophysical Institute educators, and the chance to talk to NASA experts.
In addition, the Science for Alaska Lecture Series kickoff talk is by NASA's C. Alex Young, associate director for science in the Heliophysics Science Division at Goddard Space Flight Center. His presentation, "Sunny With a Chance of Space Storms," will be at 7 p.m. Tuesday, Jan. 28, at the Raven Landing Center, 1222 Cowles St. in Fairbanks.
---